This article is also available in: 🇩🇪Deutsch (German)
This article is ideal for you to read if you are new to the Gene Keys and also if you have been a long time voyager for a longer time and you are interested in reading my experiences of the programs and the single Gene Keys. Additionally, this article is great for you if you want to download amazing tools and documents that I have created for myself and that I also have made available to you here. Below you can easily navigate towards your interest.
Last updated: 20.05.2020
OUTLINE
1. What are the Gene Keys?
– Short Introduction
– Who's Richard Rudd?
2. 3 Essentials of Gene Keys: Where to start?
– The Hologenetic Profile
– Gene Keys Book
– The Golden Path
3. The Art of Contemplation
4. The Gene Keys Box of Treasures
– What was the Gene Keys Society?
– Gene Keys Delta Program
– Guides Foundation Programme
– Living Library
– Open Community Calls
– Ambassador Programme
5. All My Gene Keys Explorations & Diaries (Articles & Videos)
6. Helpful Tools from Me for Gene Keys (Free Download)
– My Handwritten 64 Names of Love Map
7. 3 Reasons Why I Fall in Love with the Gene Keys System
8. 2 Advanced Gene Keys Programs
– Dare to be Divine
– The Seven Sacred Seals
What are the Gene Keys?
Gene Keys is a living and a magical system, and it has been developed for self-study and can be integrated for smaller groups to fulfill your higher purpose of life. The power of the Gene Keys lies in the unique self-enquiry to discover your own true nature of being.
This is made possible with the integration of the individual hologenetic profile (your compass) which is based on your birth date, time and location of birth, the 64 Gene Keys (your map) and the Golden Path (your journey).
There are unlimited possibilities to start in Gene Keys. My start in this journey began in 2018 after a friend recommended me the book (the map). As I began to read the book, my interest to fill in my data for the hologenetic profile grew tremendously because I noticed that the book from Richard Rudd is written from heart and connects ancient wisdom with the newest discoveries from science.
In Gene Keys, it's all about the trinity, which matches the mission of Beyonduality. The 64 Gene Keys are based on the spectrum of consciousness. Each Gene Key contains a shadow, a gift, a siddhi and an introverted (repressed) and extroverted (reactive) behavior pattern.
Who's Richard Rudd?
Richard Rudd is the creator of Gene Keys. He is an award-winning poet, author of several books and teacher. Funnily enough he had a very special experience at the age of 29 (which is my age right now – those "coincidences") where he received the inspiration of the Gene Keys transmission while not being able to sleep for 3 days and 3 nights. It took him seven years to write the essential book, which includes all the 64 Gene Keys – my first point of contact to this wisdom.
Read everything about Richard Rudd in details here. Richard Rudd is also very active on YouTube, where he explains different aspects of Gene Keys in a beautiful poetic way.
3 Essentials of Gene Keys: Where to Start?
1. Hologenetic Profile
The easiest start into Gene Keys is by downloading the hologenetic Profile for free. The hologenetic Profile unifies astrological calculations with an archetypal understanding of genetics. The hologenetic profile is available in twelve different languages including German.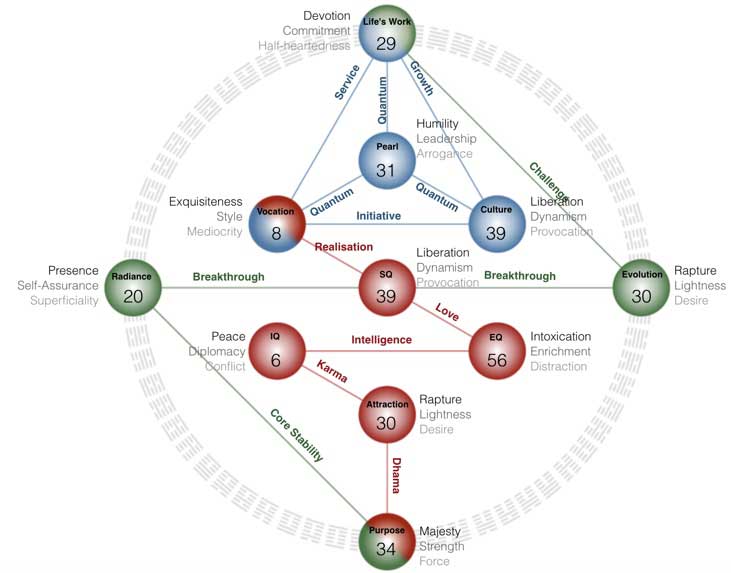 Richard Rudd uploaded 5 live readings at the end of 2019 on his YouTube Channel. This makes it easier to deepen the understanding of the hologenetic profile. Here is one of the Live Readings of Richard Rudd on 11.12.2019.
2. Book – The Gene Keys
The hologenetic profile standalone can be quite complex at the beginning, so another easy start into the Gene Keys is to buy the book or its audible version **. The kindle version of the book is also affordable in English, it's really insane. A big thanks to Richard Rudd for making all of the Gene Keys materials so easily accessible to the world. Besides the book, Richard Rudd's YouTube channel is also a great start into this transmission and teaching, because a lot information out of his books is explained in his videos.
---
More informations in my weekly videos:
---
3. The Golden Path
The guided program from Richard Rudd is the more committed start into Gene Keys. Richard Rudd explains everything step by step in an easy-to-follow approach. The first stage is the Activation Sequence, the second stage the Venus Sequence, the third stage the Pearl Sequence and the fourth stage the Saturn Sequence (not yet released). Those four Sequences guide you into the heart of your hologenetic profile and all of the wisdom of the transmission.
The Deep Dive into Genius program, which was firstly launched at the beginning of 2020, is the start into the Golden Path with the Activation Sequence. The Activation Sequence unlocks the wisdom of your Life's Work, your Evolution, Radiance and Purpose. It's a great start to understand the map and the compass for newcomers. Overall more than 1500 people attended the Deep Dive into Genius experience. Right now, The Golden Path is only available in English.
---
More informations in my article:
---
The Art of Contemplation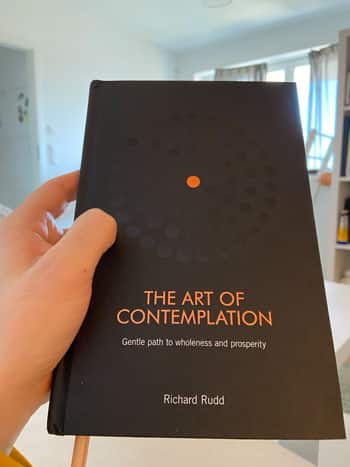 One major aspect of the Gene Keys wisdom is the art of contemplation. Just recently Richard Rudd published his new book "The Art of Contemplation", which in nature is a mystery beyond our mind. The Art of Contemplation is an inward looking process that combines pauses throughout a day in between activities (could also be meditations) and the actual activities. Actual activities based on Gene Keys could be for example reading or listening to your profile, attending community calls and sharing your experiences and working out the activities of your daily life. The connections between activities and pauses creates the magic.
"To know what we really are, we have to go beyond the mind. This is the purpose of The Art of Contemplation. Paradoxically, for many of us contemplation begins as a form of "unlearning", as we let go of our reliance on our intellect and open up to new pathways of awareness inside ourselves." – Richard Rudd
For the german community, I have created a guided meditation on the subject of "The Art of Contemplation" that is available on YouTube. Do you wish to have access to that meditation in English too? If you are interested, comment on this article and i will make it accessible within the next 4-8 weeks.
Here are six great introduction videos about the Art of Contemplation.
Gene Keys Box of Treasures 
What was the Gene Keys Society?
Update 20.05.2020: The Gene Keys Society is now redirected to the official website. Everything that was a part in the Gene Keys Society; the Community Forum, the Ambassador Programme, the Delta Program to the Living Library are now implemented on GeneKeys.com. On the official page a new community forum will also be implemented soon.
The Gene Keys Society was the heart of the community and is now being established as a part of the official Gene Keys website to have one simplified hub for the teaching.
Gene Keys Delta Program
The Gene Keys Delta Program is a luminous game of higher consciousness. It's a completely new experience into our collective consciousness. I am currently attending one delta round and will probably share my personal diaries here in several weeks. The Delta Program is a 7 weeks long journey with 7 voyagers.
Each week, every voyager contemplates one fixed Gene Key and is partnered with one of the other six, while one voyager has no specific partner and holds a very special role during that week.
The Delta Program is a vast commitment for the seven voyagers. You can also attend the Delta Program as a newcomer into this teaching, which would probably be a very unique experience for you. In April 2020, I completed my first Delta round.
---
More informations in my article:
---
Guides Foundation Programme
The Guides Foundation Programme is for voyagers who love to guide newcomers towards their hologenetic profiles, or hosting study groups for the beginner program "Activation Sequence" or for those people who wish to master the art of contemplation. Also, the Guides Foundation Programme is now a prerequisite for the Ambassador Programme and registration to the Guides Programme starts from April 2020.
Living Library
One of the main reasons for me to visit the Gene Keys Society besides the forum is the Living Library. The Living Library can be an optimal start into your hologenetic profile, because the living library contains the wisdom of all 64 Gene Keys. You could consider it as the search engine for this teaching. You find everything from the Codon Rings, The I Ching, Astrology, Programming Partners, Integral Human Design to the Dream Arc.
Open Community Calls
Every week and month, you are able to attend in open community calls with other voyagers to deepen your wisdom and journey and to get to know other voyagers. I have already attended several community calls and I loved the experience, and thus I highly recommend these opportunities to you. The community calls are cost free and most of them are over the platform ZOOM.
Ambassador Programme
The Ambassador Programme is for those who take the Gene Keys transmission serious and are committed to be a catalyst in the role to host the wisdom of the Gene Keys transmission. Since 2020, the Guides Foundation Programme is a prerequisite to participate the Ambassador Programme. At the same time, you have to contemplate the Gene Keys programs (Activation + Venus Sequence) for at least 18 months. Maybe this changes after the start of the Guides Foundation Programmes 2020. I will keep you updated here.
All of My Personal Gene Keys Explorations & Diaries
Since 2020 gratefully, I decided to document my inner explorations. The following articles might give you a deeper insight into the teachings, and my articles might inspire you to explore your own inner truth. At the same time, I decided to make diaries as a part of my inner and outer commitment for a new world of symbioses and synthesizes.
My Articles about Individual Gene Keys 
22. Gene key (Grace – Graciousness – Dishonor)
36. Gene Key (Compassion – Humanity – Turbulences)
My YouTube Video-Playlist (Weekly Pulse Videos)
Helpful Tools from Me for Gene Keys (Free Download)
My Handwritten 64 Names of Love Map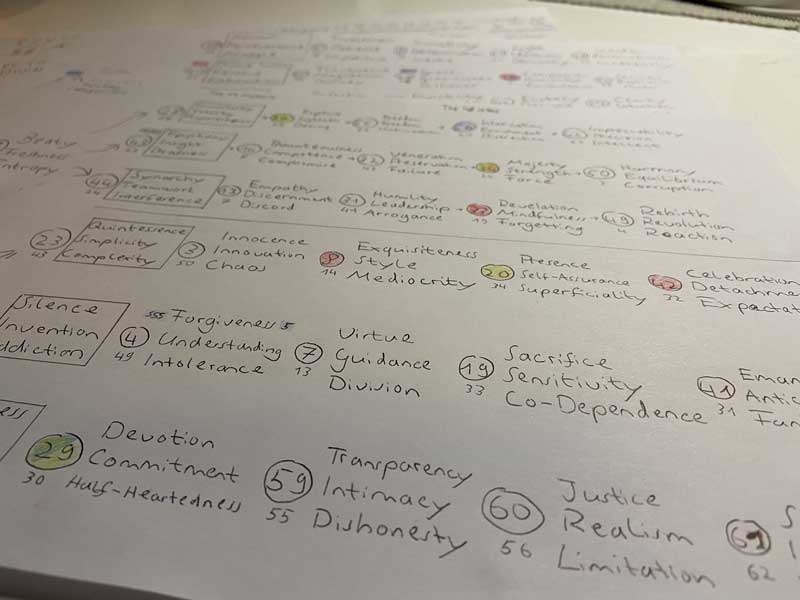 Here you find my personal document on how to observe the dots between the 64 Gene Keys on a whole new level with clear insights into your hologenetic profile.
While I dived deeper into the Golden Path last October, I found that the 64 Names of Love is documented in one of the later programs from Richard Rudd (Dare to be Divine), and I loved it! At the same time, I felt something is missing. So, I made a handwritten version of the 64 Names of Love, including all Gene Keys in detail. The document is perfect for printing or online usage. I made a horizontal and an upright version, depending on your needs.
💥 Below you are able to access the 3 files (2 horizontal formats) + (1 upright format), both in PDF. At the same time, you receive access to all of my personal resources from Gene Keys in the Drive Folder.
✅ Explanation of the 64 Names of Love Map 🧩
The 64 Names of Love Map is a technical explanation of Gene Keys from the perspective of I Ching. Richard Rudd explained this in the pre orientation part of the Dare to be Divine program, which is easy to understand.
There are 4 primary Gene Keys (1), (2), (63), (64), and the other sixty Gene Keys spread out from those 4 primaries. The (1) + (2) is one family, and the (63) + (64) is one family. In this case, (1) + (2) and (63) + (64) are also called programming partners. From those 4 primaries, 12 mysteries spread out. Each primary contains 3 mysteries which are family to each other. Those 3 mysteries are also family to the above primary. From those 12 mysteries, 48 letters spread out. Each mystery contains 4 letters which are family to each other. They are also family to the above mystery and the above primary.
🧐 What Did I Discover from My 64 Names of Love Map? 🧩
I applied the Gene Keys Style, played like a kid and contemplated openly. I found out that for example the Shadow of Dislocation (2), Complexity (23), Addiction (24) and Selfishness (27) has a closer relationship with each other for me personally. While I was doing things too complex (23), addicted (24) and selfish (27) in my life, I fell into a deeper dislocation (2) state. Today, I discovered more often to be simplistic (23 – Gift), human loving (27) and inventing (24), which leads to an orientation in my life (2 – Gift). So, it is quite simple to observe the context from the primary (2) and the 3 mysteries (23), (24) and (27) of that primary.
For my own use, I added everything to my individual map from the programming partners, colored my own individual Gene Keys from my hologenetic profile. Furthermore, I even added all the Codon Rings and the Chakras for each Gene Keys. Be creative by using this map, and feel free to share your experiences.
Copyrights
The documents are free to use. Sharing and linking to this blog article, while using the documents on projects is very much appreciated. By doing so, you help me spread my vision of love and peace. I am happy to serve 💜
3 Reasons Why I Fall in Love with the Gene Keys System from Richard Rudd
Reason 1 – The teaching combines spirituality and science with poetry.
Gene Keys is a system that goes very deep and is connected with a lot of joy. Richard Rudd's writing style is very poetic, and his calm and hearty rhythm in videos on YouTube or the online program opens people's heart in a magical way. Through Gene Keys, I have gained much more comprehensive views on my personal life, which I integrate more and more into my everyday life. I love that this teaching combines spirituality and science in a harmonic and meanwhile simple manner.
Reason 2 – It is a system for deep universal understanding.
How is it possible to describe something indescribable? Richard Rudd has achieved this in his masterpiece! The inner world in this transmission goes in resonance with my unique truth. In addition, play and fun are linked together, so that the knowledge and insights can be integrated into everyday life in the best possible way.
Reason 3 – Gene Keys is a transmission of love and light.
In my life it has become increasingly important to do things effortlessly and with ease, and not to impose goals or paths on life, which results in a limited self. This system translates the game of life beautifully in a multi-faceted way of love and light. I feel safe and at home here. Life itself is alive and effortless and nature knows exactly where to go. In the body of a human being we are also part of nature and are allowed to respect it. The work of Richard Rudd deeply appreciates the nature of reality and brings high frequency teachings with authenticity into the world.
2 Advanced Gene Keys Programs
At last I decided to give a short intro into the two advanced programs: Dare to be Divine and the Seven Sacred Seals, which I started in 2019.
Dare to be Divine
Dare to be Divine is a very mystical journey into your inner essence.
For me, the Activation, Venus and Pearl Sequences are the fundamentals to understand our genetics in a more refined way and it helped me a lot in a practical sense to observe my own shadows at work. The more I moved from Activation into Pearl, the more magical it became. This really amazed me, and I understood myself at a whole new level. The golden path revealed my past that I had reflected already and in an intense hindsight, the accuracy of my own voyage was insane.
Therefore, I started the Dare to be Divine material and for me the course shows future probabilities of our universal love and our true self. At the same time, it is not super easy to resonate with everything, as it is at the Golden Path, which is far away from the current life that we live. For that reason, it is important to watch it from a playful perspective. It seems like a course meant for very open-minded and high consciousness beings that are able to see the practicality in the Dare to be Divine material.
While I attended the course from Richard Rudd, I also checked the relationship between my own hologenetic profile and the 64 Names of Love. It helped me to understand the teaching at a more profound level. The Dare to be Divine material is mind opening and the stories are as great as always.
The Seven Sacred Seals
The Seven Sacred Seals was by far the craziest book and online course I have ever ordered. After reading the book, doing some of the invocations, and resonating strongly with them, I ordered the online course. I have already worked very intensively at similar topics over the last 3 years and went into ecstatic states at seminars before discovering this transmission. I knew what higher states of consciousness are possible. However, I was still blown away by the Seven Sacred Seals material, especially the invocations spoken by Richard Rudd.
At the same time this material is the only transmission of Gene Keys, I am careful to recommend it to others, because people have to be ready. I have no idea why, but this Seven Sacred Seals transmission is the real deal for higher consciousness levels. If you read this article until the very end, the Seven Sacred Seals material could be for you.
---
Feel free to comment how the article helped you below. All questions will be answered from me personally. Also love to receive feedbacks for further improvement on this article here.
Thanks a lot for reading my article.
Cheers to all of you voyagers! 🥰