Our universe is considered dualistic. For example, we experience left and right or negative and positive. But in my honest opinion, we as humans are far from imprisoned in our universe's duality.
We are multidimensional beings and we can go beyond the duality of our universe.
---
This read…
helps you remember your level of being.
empowers you not to have to experience "pain and suffering" anymore.
---
The end of suffering.
One of the illusions of our collective belief system:
We have to experience the pain, the suffering, and the darkness so we can experience the love, the happiness, and the light.
As a collective consciousness, we believe that to be an absolute truth, because this is how our universe functions.
"There are ups and downs in life."
"Sometimes we are healthy and other times we suffer."
Our limited mind tries to understand that, and this is why the mind construct of our consciousness is divided into good and bad or healthy and ill or science and religion. However, in another dimension beyond our duality, there is no science and religion, because only pure consciousness exists.
Express your pure consciousness and no more attachments can exist.
Are you able to express your pure consciousness beyond duality?
You express it every second of life. You just never noticed it because your frequency and awareness are too restricted.
For example: You watch TV—Formula One.
What can you be certain of?
First of all, you know it is the same reality. The race ends on the TV screen exactly like it does when watching live from the race circuit.
However, there is a slight but important difference. Your TV cannot transport the same sound quality of the Formula One cars or the feeling and atmosphere of the live crowd. This is only possible at the race track. Why is that?
The TV screen is a projection of our past and it would never be fully possible to experience the same sensations.
Now, what do we humans do the most times per day?
checking smartphones
watching TV
playing computer games
working daily
All the times we've spent by watching another screen, we are in an alternative reality that is far away from our true reality, because as explained before, it is already the past.
Pure consciousness can only be experienced in the present moment.
Let us go a step further. Probably, you have heard about the virtual reality simulations and games starting to pop up. These VR simulations make you believe you are really in the game, like in real life. We create these games to have more fun. Right now, the quality of these VR games is still very low, but in the near future, it will come closer to our reality.
Computer games are the best example of how quickly the graphic technology develops.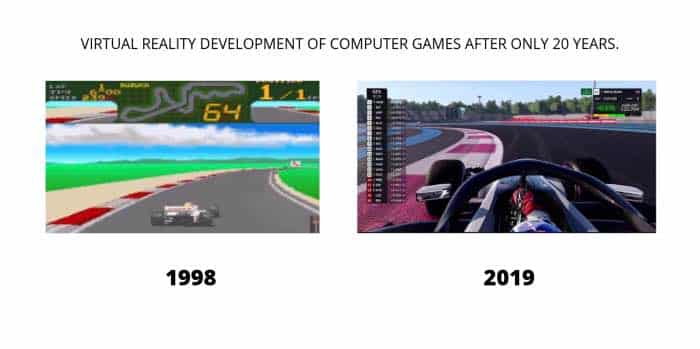 Only 20 years ago, it was super easy to differentiate computer games from our reality, but today, it is very close to our reality. Playing a Formula One computer game or watching the live race is not as big of a difference anymore.
Our technology development is faster than ever before in our recent history, and we will experience the first quantum computers soon.
You might be surprised by the next chapter if you have not read and philosophized about this topic.
Do we as humans already live in a virtual reality?
That we already live in a virtual reality right now is realistic—an ultra HD virtual reality created by our own higher existence to experience ourselves in another dimension with different sets of rules beyond our duality.
This is not science fiction nor a joke. This is also not science nor religion.
It is just common sense.
Tom Campbell, a nuclear physicist and famous expert on consciousness, wrote about the possibility that we live in a virtual reality in his book, "My Big TOE". At the same time, be very careful, because that does not make this "virtual reality" less real.
Everything we know from these alternative realities is funny, and we cannot be certain about a reality we did not experience ourselves yet.
For that reason alone, do not consider what I am writing as an ultimate truth, because we all live our own truth. We can never fully understand the motives behind another person because we are not that person.
We can only empathize closely because our inner mind/ego world differs way too much.
Another example:
A bacterium is so small that it simply cannot comprehend all of a human's reality.
So, we as humans cannot comprehend a reality that is far beyond our capabilities. However, our capabilities are far greater than we could ever think of right now.
What can you take away from all of the above about Beyond Duality?
Wouldn't your life be much easier after you know that all the suffering and pain is an illusion?
By releasing all fears of the past and future, wouldn't your life be much easier?
By stopping to overthink everything, wouldn't your life be much easier?
We have to re-engineer what we believe is true and wrong.
Our scientific research and our religion cannot 100% satisfy all of us humans.
We cannot fully trust science, because of our current worldwide system of capitalism. We also cannot fully trust religion, because it is not what it was meant to be.
Therefore, we can only trust our own experiences of reality.
We can only experience our own reality beyond duality and should not blindly believe others.
I implement the following as much as possible in my daily life.
"Need nothing, wish everything, choose what shows up."
– Neale Donald Walsch
---
Do you love reading my articles? I deeply believe from heart that more people have to know about these important topics.
So, share it with friends.
and discuss about my articles below.
Have a lovely day,
Dominik